Insights > Announcement: CMO Series Live coming to London
Published
Announcement: CMO Series Live coming to London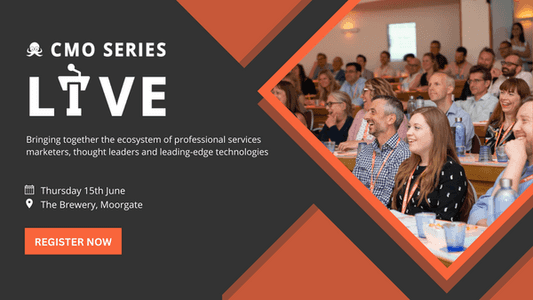 CMO Series Live, the conference and exhibition that builds on the success of the CMO Series Podcast is to launch in London on Thursday, 15th June 2023. 
The CMO Series Podcast was started by Passle in 2021 to help share the best practices of marketing and BD leaders in professional services. The podcast series has now delivered impartial advice from over 90 leading CMOs and other senior marketing and business development professionals to an audience of over 250,000 listeners.
This success has driven demand for a face-to-face event that brings together the entire professional services marketing technology ecosystem, with the CMOs and BD professionals that feature and listen to the podcasts, alongside their technology partners and agencies.
CMO Series Live
Venue: The Brewery, Moorgate
Date & Time: Thursday, 15th June 2023, 09:30am - 4:45pm (followed by evening entertainment)
Ticket Price: £480
"Our aim is to deliver a one-of-a-kind event that meets the demand of the CMO Series's audience, bringing the ecosystem of professional services marketers, thought leaders and leading-edge technologies together."
- Event Organiser, Natasha Sandamas
The conference will feature two content streams and more than 14 talks focused on the most exciting concepts, case studies, and technology in professional services marketing. There will also be a focused selection of technology partners and the opportunity to network with peers into the evening.
Space is limited and the demand for this event is already exceeding expectations, so early booking is highly recommended to secure your spot.